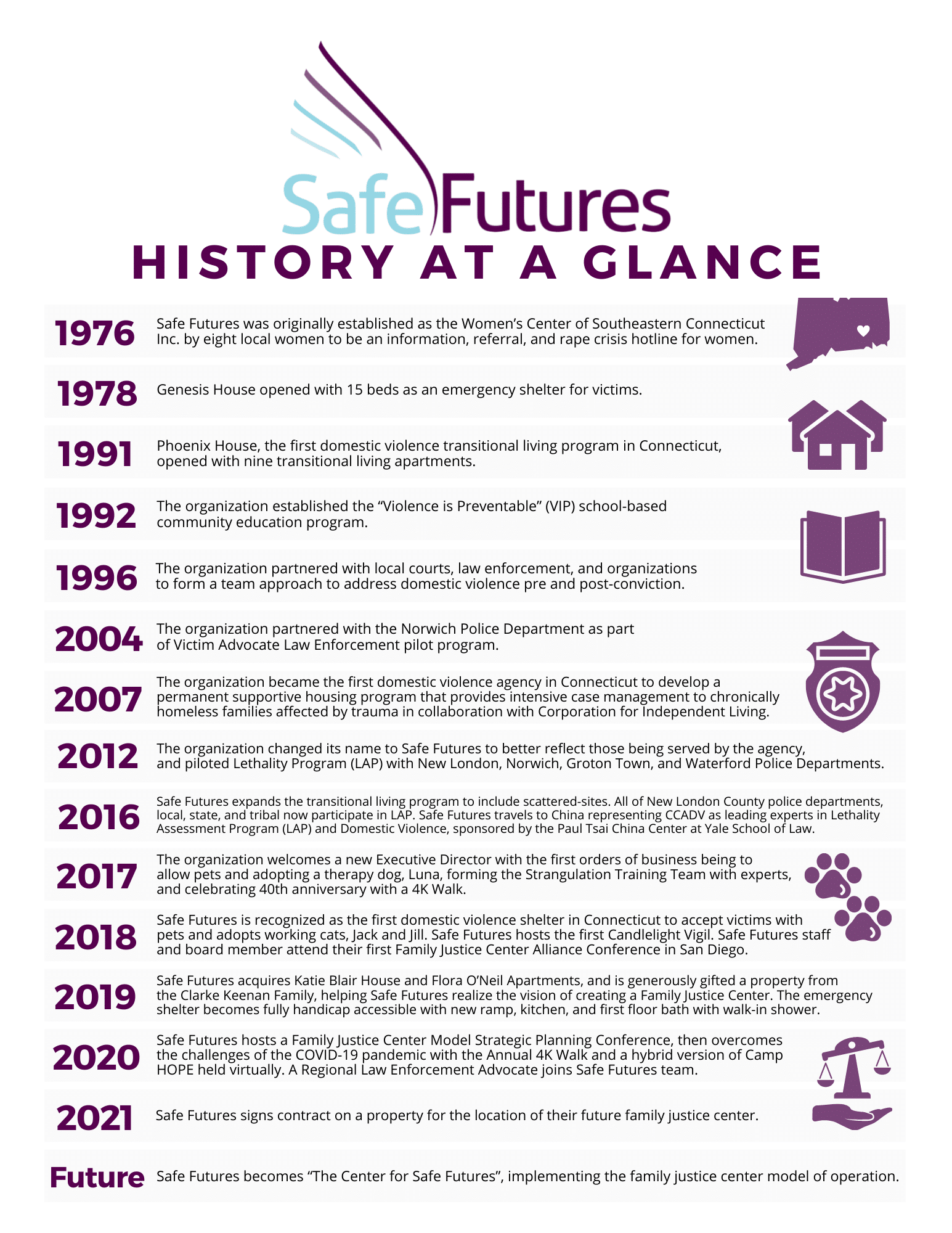 Founded in 1976
as the Women's Center of Southeastern Connecticut, Safe Futures began as an information and referral service for women entering the workforce.  When a rape crisis hotline was added to the services offered, it soon became clear that, many times, the perpetrators of the assaults were men the callers knew – their husbands and boyfriends.  This realization lead to the opening of several safe houses, and eventually a permanent emergency shelter in 1978.
Noteworthy Milestones
The first domestic violence agency in the state of Connecticut to open a Transitional Living Program, Phoenix House, in 1991. It was one of only four such programs in the state.
The first domestic violence agency in Connecticut to offer a supportive housing program in 1978. Families made homeless because of domestic violence or sexual assault who struggle with behavioral health disabilities receive safe, affordable, housing and supportive services.
In partnership with the Norwich Police Department, Safe Futures pairs a victim advocate with law enforcement officers to serve victims at the time of an incident–considered a model program by the Chief State's Attorney.
Safe Futures launched a Violence Is Preventable (VIP) program in 1992. This science-based curriculum helps local elementary and middle schools students learn anger management techniques, effective communications skills, and problem solving skills. The children are trained how to deal with their conflicts nonviolently.
In 2012, we became the first agency in the Connecticut Coalition Against Domestic Violence to enact the Lethality Assessment Program (LAP) in conjunction with local, state, and tribal law enforcement agencies.
Trained Chinese government officials and law enforcement in Beijing on the Lethality Assessment Program through Yale's Paul Tsi China Law Center in 2017.
In 2018, Safe Futures received national recognition as the first shelter and housing program in the state of Connecticut to accommodate pets.