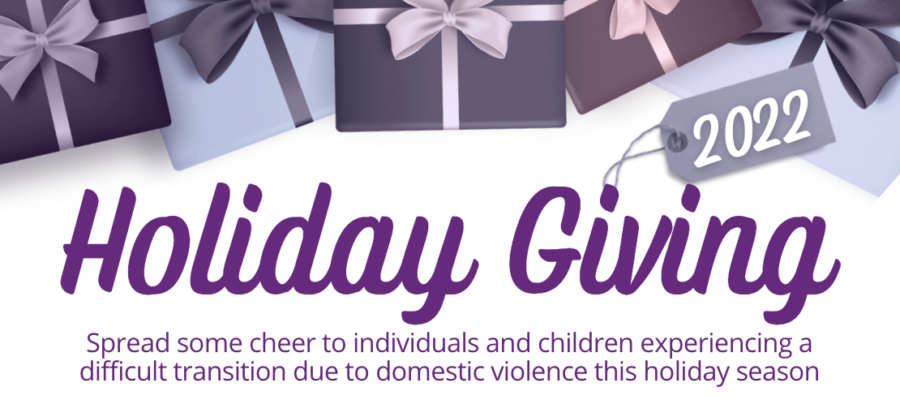 Safe Futures will be collecting gift donations for more than 700 adults and families in crisis. Here's how you can experience the joy of giving this year:
Ways to give:
Gift Cards: One of the greatest gifts we can give our clients is empowering them to do their own holiday shopping for their families. Gift cards in smaller denominations from $20 – $50 are appreciated. Suggested stores: Walmart, Target, Stop & Shop, Kohl's, Shop Rite, and Dunkin' Donuts.
Adopt-A-Family: Contact our team to get paired with a family in need and donate gifts directly from their Wish List.
Suggested Gift Items:
Adults
Self-care items (lotion, body spray, body wash, face wash, etc.)
Pajamas & bath robes -women's sizes Small – -2 XL
Blankets (twin or queen) or cozy throws
Warm slippers (all sizes 7,8,9,10)
Bath towel sets, washcloths
Adult coloring books & colored pencils (for relaxation)
Warm winter socks, warm gloves
Small coffee maker, toaster, handheld blender, can opener
Umbrellas
Wallet, cross body bag
Holiday candy, snacks, hot chocolate, tea, coffee, etc.
Ideas for Children
Pajamas (newborn-toddler-5T through1 18 children's sizes)
Warm sweatpants, sweatshirts size 4T-14, winter socks, hats, mittens
Learning toys (baby – 12 years old), board games, puzzles
Lego sets, building sets, play food sets
Dolls of all ethnicities
Super hero figures or sets
Paw Patrol toys, books, puzzles, plush toys
Toy trucks and cars
Coloring books and crayons, art supplies
Infant toys, musical toys, plush toys
Ideas for Teens & Tweens
Gift cards to Target, Walmart, Old Navy, TJ Maxx, Dick's Sporting Goods, Sephora, Ulta, Michaels Craft Store, Best Buy
Nail polish & manicure sets, make up sets
Personal Care (male and female) – body wash, body spray, deodorant, razors, lotion
Sports equipment, basketballs, footballs, skateboards, etc.
Small electronics, handheld video games, headphones, ear buds, etc.
Small Bluetooth speaker
Craft sets, science sets, art supplies & paper
Journals, stationary, notebooks & gel pens
Giving Guidelines:
Gifts must be new and unwrapped. We cannot accept toys or games with violent themes.
Drop-off is by December 9th at the Safe Futures Donation Center at 16 Jay Street, New London, CT.
Questions? Please contact Susan Noyes, Holiday Giving Coordinator at snoyes@safefuturesct.org
Thank you for your generosity this holiday season!